At the beginning of each season, I shake things up around our house. Most of our decor stays the same from season to season (like the bookcase in our living room or the set-up in our bedroom), but I love switching our bookshelves and the entryway chalkboard. I try to do things a little differently every season, which is tough when I'm working on limited funds. It forces me to be creative, that's for sure!

Here's the bookshelves on our living room wall (to the left of the kitchen).
My sister painted the piece on the top; that's the only thing I don't switch out each season on this wall.
Here's a close-up of the tins on the second shelf. I got the idea from
Martha
, of course. First I painted the coffee tins using some acrylic paint I had laying around. After the paint was dry, I marked my drawings with a permanent marker, then used a tiny drill bit to make the holes (I first tried a hammer, but you can see on the "Happy Fall" tin that the nail left indentations; it also took freakin' forever).
On the other side of the second shelf is my African violet (I've managed to keep it alive for a few months now!) and some twine-wrapped candles.


I just used two pins to attach the twine to the back of the candles, and voila!
The bottom shelf is our assortment of wine corks (alcoholics, much?!) and a precious Pumpkin Patch sign I found at the Dollar Store last fall right before our pumpkin party.
Using inspiration from this
Pin
, I reworked our entryway chalkboard to feel more fall-like.
I also write up a seasonal to do list of things inside and outside the house, both fun and necessary. We definitely have some repeats from past fall seasons, but the repeats are normally the most fun!
Usually I'm itching to change seasons within the house, since it's always fun to think of different ways to shift things around. But somehow this fall I wasn't ready to give up the ghost of summer. How is it almost October?!
Today I'm linking up with Layla for the It's Fall Y'all link party. Head over to the host's pages (
Layla
,
Sarah
,
Kate
, and
Rhoda
) to see what they whipped up for their fall mantles! Oh, how I wish I had a mantle....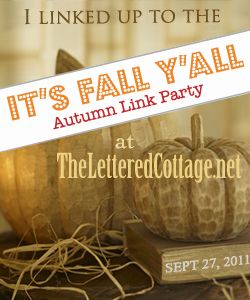 Who else brought out their fall colors this weekend? The first day of fall was officially Friday, but it's not feeling like fall in Georgia today-- highs in the mid-80s!